Yup I disappeared for a month without any notice. Sorry. But not really. There has been a lot going on in my life. Lots of changes, all good. I feel like I have found myself again, that I exist as an individual person. I am, dare I say, happy? Yes, definitely HAPPY!
The spouse moved out in February. My reaction: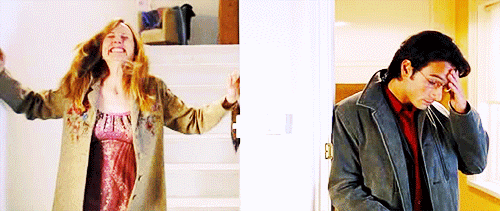 (In case you don't know the movie "Love Actually" that is Laura Linney being crazy excited.)
Since then I painted the master bedroom a very soft, light green and turned it into my office. (We had been in separate bedrooms for years so I stayed in mine.)
I finally got a new printer and started my mobile notary business. A bit of a bumpy start with technology issues (don't buy a Canon printer if you have a Mac 🙄) but things are working out.
Life is good. I work when I want to, my son can walk to his father's place so I am good with that and I am feeling much better physically these days. I started taking ProVitalize a few months ago and what a difference. It took awhile to really start working but once it kicked in…hot flashes are gone, I am sleeping through the night, no brain fog, way more energy and the sugar cravings are decreasing nicely. Not much weight loss yet, but enough to keep me happy.
And in case you are wondering about guy #4, he is exactly who I need right now. 🥰
So, this is it for the blog. I find I am much happier spending less time on-line. The world is too crazy for me these days. I have other types of writing I want to spend my time on. I will be around on Instagram though. (In retrospect my February Fun was more suited to Instagram and I am looking at doing more challenges like that.)
Take care and enjoy your life!